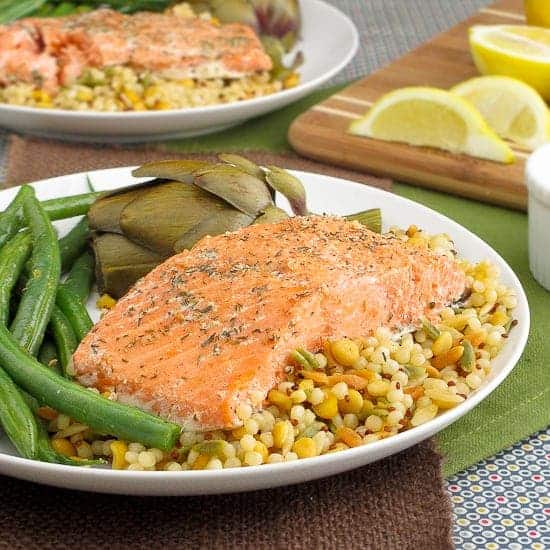 With a trip to Boston smack dab in the middle of finishing a first draft and making serious revisions to my paper, every dish I make gets added to an ever-growing queue waiting to be shared with you. I can't keep up! On our whirlwind three-day MIT reunion excursion, Lucas made sure to introduce me to the fantastic seafood of the Northeast. Among an impressive list of dining experiences, we took a ferry on Saturday to a small island off the coast to feast on fresh lobster and clams. To commemorate this trip to Beantown, it seems appropriate that I tell you about a fish dish, even though this filet was actually baked the weekend before our trip to the coastal city.
It's been awhile since salmon has been on my kitchen table. For starters, my pint-sized kitchen doesn't have a fan, so fishy smells linger in our compact apartment for a few days. Stench aside, the real reason for the rift is that I managed to eat enough salmon during my first two years of college to tide me over. Yikes - that means I've been sick of cooked salmon for about seven years. And I thought I didn't hold grudges! The salmon overkill began during a run of Shakespeare's A Midsummer Night's Dream  in July of '04. Each night for the two months of rehearsal and performances, a castmate and I would hang up our costumes and head back to his mom's house where he'd grill up a filet of salmon on the George Foreman to serve with steamed broccoli. Toward the end of that summer, my college roommate phoned me from Alaska to inquire whether my family liked salmon. A day later, a 29-pound freshly caught salmon showed up on our doorstep packed on ice. We ate our way through the gigantic fish and when it was gone, I'd seen enough salmon to last for, well, the next seven years.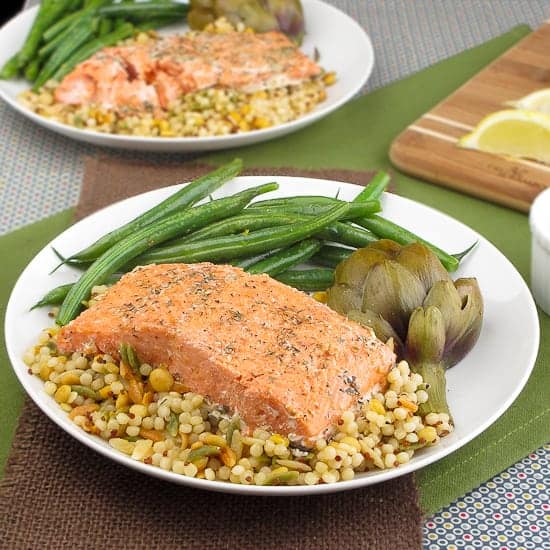 The inspiration for breaking my streak is unclear, but with Monterey Fish Market down the street it was inevitable. And boy am I glad I did! This filet was melt-in-your-mouth creamy and full of fresh flavors. My love affair with salmon is back in full swing, just in time for healthy summertime dishes. Next time, though, I'd pan sear it for a minute or two before popping it in the oven to give a crispy edge and seal in a bit more moisture. This step should also help reduce the white fat that surfaced from baking it in foil pouches (please excuse the fat in the photos above - the fish sure tasted delicious despite its appearance).
Baked herbed salmon
Serves 2
2 salmon filets
½ teaspoon dried sage
1 teaspoon dried thyme
Kosher salt and freshly ground black pepper, to taste
1 teaspoon olive oil
Lemon, quartered (optional)
Preheat the oven to 350ºF.
Sprinkle the top each filet with sage, thyme, salt, and pepper.
Heat olive oil in cast iron skillet over high heat (Note: I didn't do this step in the pictures above, but would do it next time). Place each filet skin side up in the skillet, and sear for 1-2 minutes, until just crispy. Remove from heat.
Wrap each filet in foil, pinching the edges to seal. I used parchment foil, but if just using regular foil, be sure to put a bit of cooking spray on the foil so the salmon won't stick.
Bake for 20-30 minutes, until the fish flakes apart easily.
Serve with lemon wedges (optional).