Last updated on July 2nd, 2012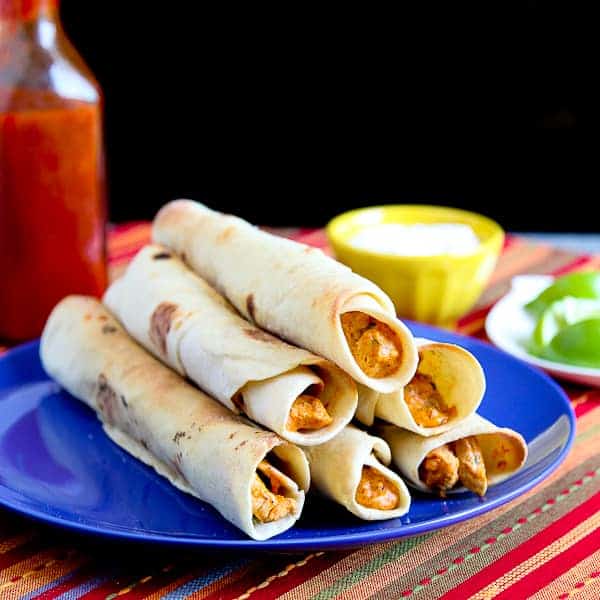 Sample sunday at Costco is one of my fondest childhood memories. When I make the trek out to Costco these days, most of the microwaved tastes are less appealing than they were to my teenage self. Back when my metabolism was in overdrive, I could (and would) eat anything at anytime without thinking twice. Costco makes it much easier to feed hungry teenagers and all their friends at the press of a button. Even though my mom made delicious family dinners, we also kept a hefty supply of Costco's microwaveable snacks on hand. Most popular of which was chicken taquitos. (Costco's massive boxes of fruit roll ups, otter pops, and sour gummy worms also played a starring role in the hyper-development of my sweet tooth, but that's a story for another time).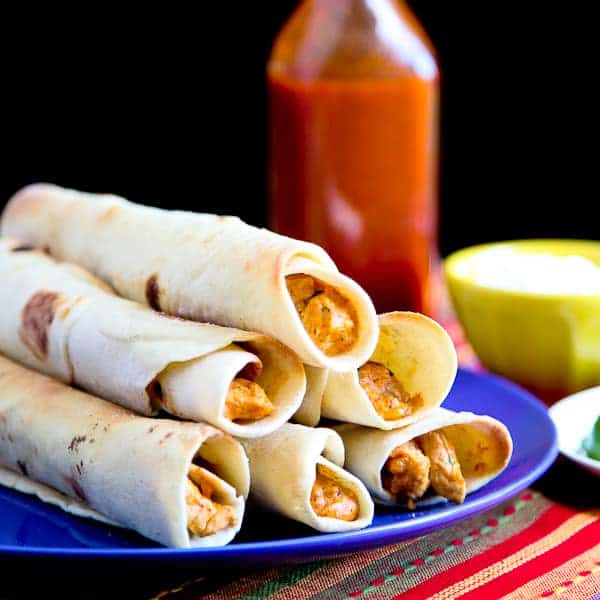 When I came across this healthier option to the fried frozen one from my teenage years, it brought back fond food memories. Let me tell you, despite my regard for the taquitos of my childhood, this homemade version blows Costco's out of the water. When you don't know any better, the frozen ones hit the spot, but in comparison to homemade, they're a little rubbery and inevitably have a cold spot when you bite down in the center. Sure, you could heat them up in the oven to avoid those issues, but that just takes way too much time and energy for a 16-year-old. And, even so, the filling to tortilla ratio leaves them much more bland than the homemade kind.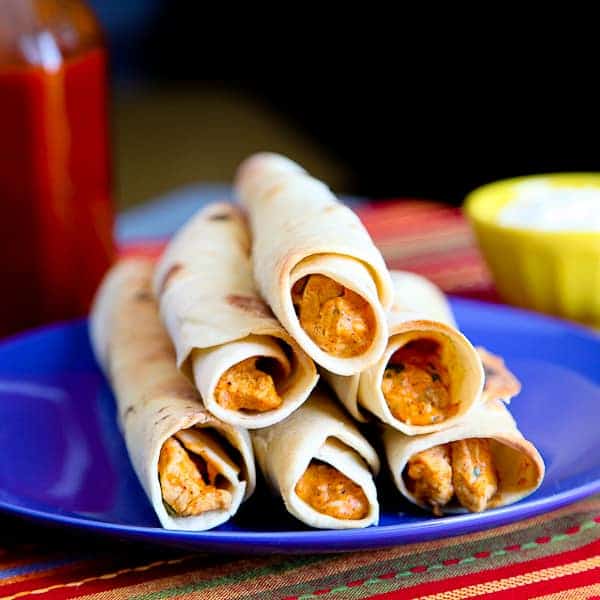 These freshly baked taquitos, on the other hand, are comforting and rich in flavor. They're perfectly crispy on the outside, and warm and creamy on the inside. I made a ton thinking we'd freeze the leftovers for quick weekday lunches, but they were so addicting that we ate all of them before they hit the freezer. What's more, they take barely any time to whip up (that is, if you swap out the homemade tortillas for store-bought). You could easily cut them into bite-sized pieces for a quick party snack, or make a large batch for dinner guests. Either way, they'll be gobbled up quickly.
Creamy chicken taquitos (Adapted from Krissy's Creations)
Makes about 20 medium/large taquitos
2 large chicken breasts, chopped into ½-inch cubes
6 ounces cream cheese, room temperature
½ cup salsa (Many people prefer salsa verde,  but I'm anti-cilantro so I went with medium Pace salsa, which was delicious)
Juice of a lime
2 teaspoons chili powder
¼ teaspoon cayenne pepper
1 teaspoon onion powder
1 teaspoon cumin
½ teaspoon kosher salt
7 cloves garlic, minced
½ cup chopped parsley
6 tablespoons chopped scallions
1 cup cheddar cheese, shredded
1 cup Monterey Jack cheese, shredded
Salt & Pepper, to taste
About 20 8-inch flour tortillas (I made my own, but Trader Joe's homemade flour tortillas would be my recommendation for store-bought)
Optional: sour cream and hot sauce for serving
Preheat the oven to 425ºF.
Heat a medium skillet over medium-high heat. Add the chopped chicken and cook, stirring, until cooked through, about 5-8 minutes (as soon as you don't see any pink, just cut a large piece open to make sure it's cooked through)
In a large bowl, combine the cream cheese, salsa, lime juice, chile powder, cayenne pepper, onion powder,  cumin, salt, garlic, parsley, and scallions. Stir to combine.
Add the cooked chicken and cheeses and mix well. Add salt & pepper to taste.
Heat the tortillas in the microwave in small batches to ensure they're pliable enough to roll.
Place about 3 tablespoons of filling on the edge of a tortilla and roll it up tight. Place it in a parchment-lined baking pan. Repeat until you use up the filling.
Spray the top of the taquitos with cooking spray and bake for about 15 minutes, until lightly golden brown. I baked mine in two batches to make sure both pans would get golden brown.
Serve with sour cream and/or hot sauce (optional).