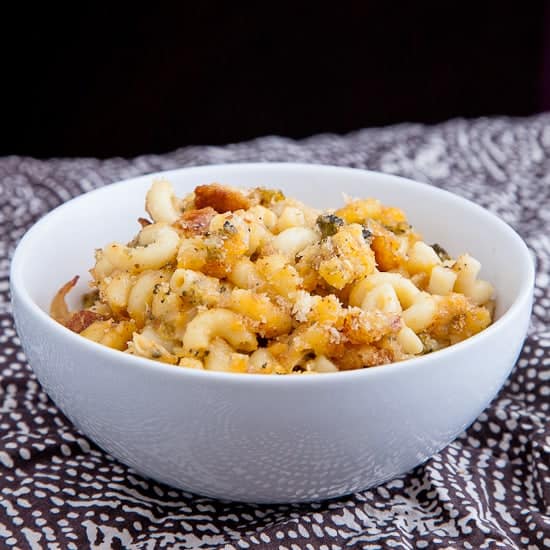 Remember how I wasn't cooking this week? Well, I accidentally made two gigantic vats of mac and cheese last night. Okay, so it wasn't really an accident - I intended to make mac and cheese for four people (plus some extra for our intended trip to Tahoe), but somehow I ended up pouring 1½ pounds of macaroni into the pot of boiling water. I'm not sure what I was thinking, but now we'll be eating a LOT of mac and cheese. At least there's broccoli in it, which makes it healthy...right?
This abundance of pasta echoes a blunder I made when Lucas first moved in with me. As a generally frugal person, it was my goal to get him pack lunch for work rather than spending a small fortune eating out in the mission. We carefully planned, making lists of potential sides that could go along with whatever he was packing for his main dish (typically, he eats leftovers from the previous night's dinner or cheeseboard pizza that we generously receive from my tutee's family each week). For our first crack at these sack lunches, I decided to make pasta salad that could be eaten as a side for the whole week, but pasta looks so small when it's uncooked and I ended up making enough pasta salad for a month (at three meals a day!). When it was clear Lucas had eaten his fair share of pasta salad, I even tried to disguise it by mixing in a bunch of cheese and baking it topped with breadcrumbs. I don't know if we'll ever eat pasta salad again.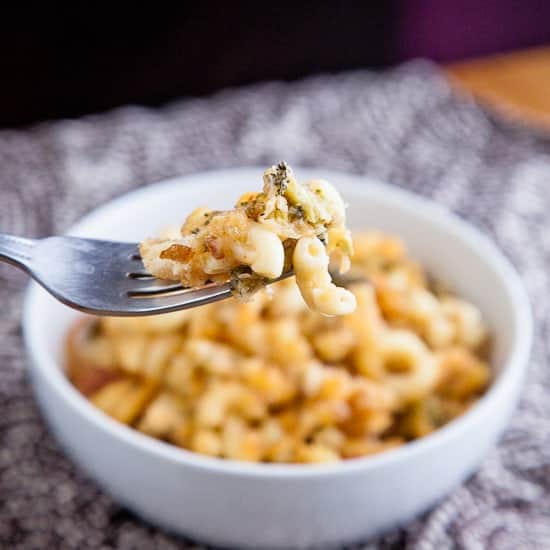 Tonight's mac and cheese was MUCH better than the pasta salad monsoon. It was for a special occasion. Two years ago, my college friend, Cas, and her boyfriend, Brian, moved to town, but even though they lived just down the street, our grad student schedules kept us apart (which is sad because when Cas and I get together, we craft. We craft hardcore). As an aside (from an aside), Cas, as it turns out, went to high school in a small town in Illinois with one of Lucas's best friends from college (as I get older, it seems the world gets smaller and smaller). Anyways, we now have a standing monthly dinner date to make sure we actually do find time to be friends. And, as luck would have it, my dad was in town for work and got to stand in for Lucas as the fourth at the table.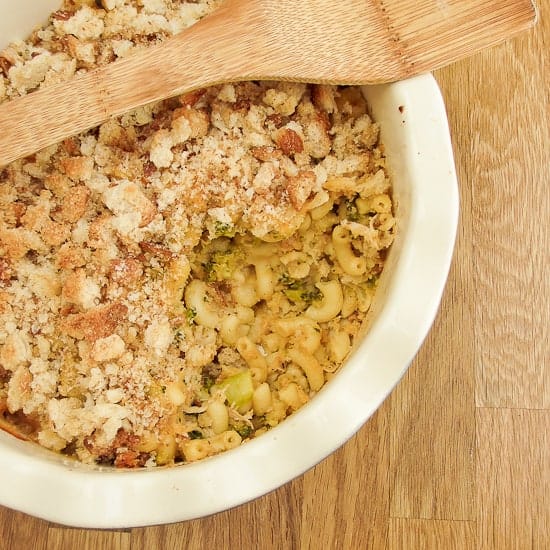 This mac and cheese recipe is a great basic that you can tweak to make it your very own. Next time, for example, I will add even more paprika, cayenne, salt, and pepper, and perhaps throw in some of Chuy's mom's homemade secret-recipe hot sauce. Since I didn't use a recipe, I was a little nervous about over seasoning, so I restrained myself (which really didn't matter much because you can always toss some extra salt and pepper on once it hits your plate). I was also pleasantly surprised that the broccoli's flavor shined through quite a bit. I threw in a bit of bacon and chicken breast because I had some left over and I hate wasting food; to be honest, I added so little comparable to the size of the crates of mac and cheese that it wasn't too noticeable. I LOVE bacon (who doesn't?) so next time, I'll toss in a few more slices. I ate a healthy serving of the broccoli mac and cheese for lunch today and think it might even be better as leftovers.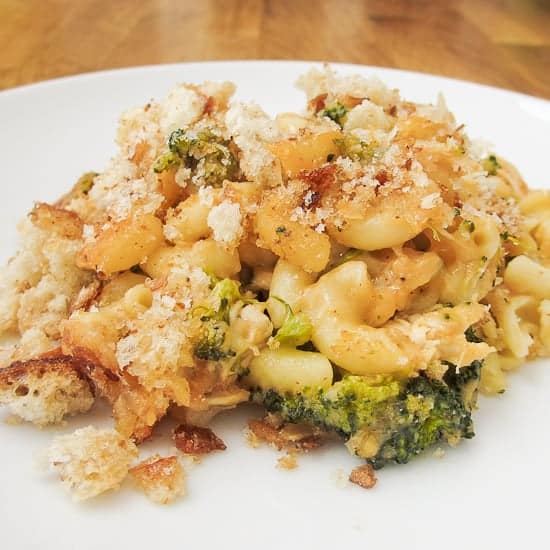 Broccoli macaroni and cheese
Serves 6-8 (Note: I've reduced the ratio of each ingredient so you'll only make a normal serving size)
1 pound of macaroni, cooked al dente
3 cups sharp (or extra sharp) cheddar cheese, shredded
1½ cups parmesan cheese, shredded
5 tablespoons butter
¼ cup flour
3 cups milk
2 teaspoons salt (I might even toss in an extra teaspoon)
1 teaspoon nutmeg
2 teaspoons paprika
½ teaspoon cayenne (or more if you're feeling daring)
Freshly ground pepper, to taste
3-4 small crowns of broccoli, finely chopped and steamed until JUST bright green
2 cups fresh breadcrumbs (I toasted some sourdough bread in the oven and used my food processor to turn it into crumbs, adding a tablespoon of melted butter)
Optional: bacon or chicken, cooked and broken into small pieces
Optional: hot sauce or dried mustard, to taste
Preheat oven to 350ºF.
Melt butter in medium saucepan. Add flour and whisk until smooth. Continue cooking, whisking, until golden brown, about 6 minutes.
Meanwhile, heat milk in saucepan until just about to boil. Add milk to butter and flour mixture, in three parts, whisking continuously until very smooth.
Bring to a boil. Continue cooking for 30 seconds.
Remove from the heat and add salt, nutmeg, paprika, cayenne, and pepper.
Pour over cooked (al dente) macaroni and mix. Add shredded cheese (reserving half a cup) and broccoli. Toss until combined.
Pour macaroni into a large casserole dish. Sprinkle remaining cheese over top. Cover with breadcrumbs.
Bake for 25-30 minutes until golden brown and bubbling.