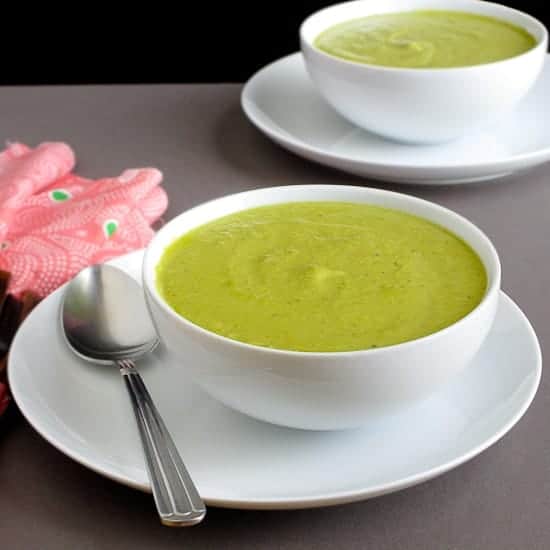 While traveling around the country, I've discovered what I love most about living in California: seasonally fresh local produce available year-round. We're spoiled rotten here in the Golden State; half a block from my house, bins are overflowing with fresh vegetables being sold for next to nothing. As spring rolls into summer this month, bundles of Asparagus are lining the entryway at the produce market. Although you can surely find woody and bland asparagus from somewhere far away all year long, springtime in California brings with it an abundance of green stalks filled with refreshing flavors. Naturally, I snagged a couple of pounds on my last trip with plans to turn it into soup.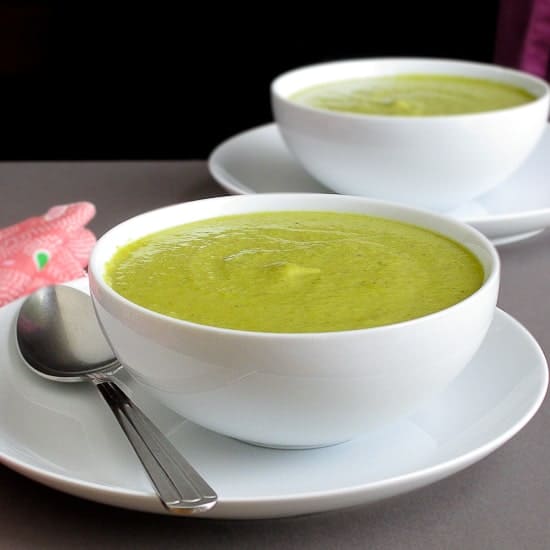 This soup has been on my mind since my birthday dinner at Revival. When bored or procrastinating edits to my papers (like now), I would search high and low for an asparagus soup recipe that might mimic the creamy fresh bowl from that restaurant. The batch I'm sharing with you definitely holds a candle to the one from my memory. My favorite part of this recipe is that the body of the soup comes entirely from the asparagus and leeks - there are no potatoes sneaking in and leaving their mark with a grainy texture.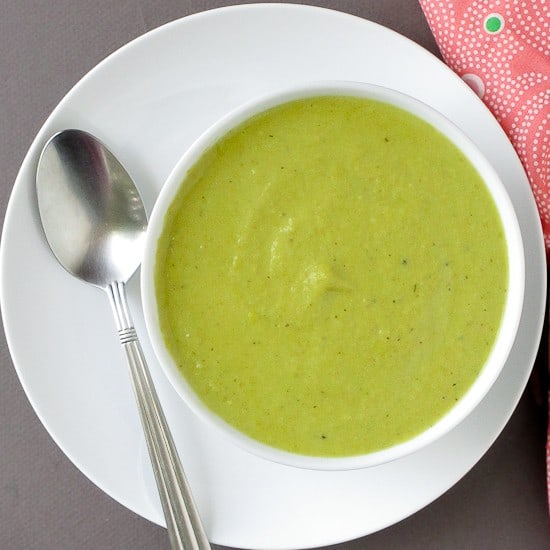 With spring in The Bay Area bringing showers and cold fronts with sporadic sunshine, this asparagus leek soup can be served as a warm comfort for a chilly night or an invigorating end to a sunny day. The vegetable base combines with the sprinkle of cheese for a rich and addicting flavor combination. The smooth soup was so tasty that we regretted our health conscious decision to forgo buying a baguette to sop up every last drop. If you're super daring, I would recommend adding a crumble of crisp bacon as a garnish to give the soup a little salty kick.
Asparagus Leek Soup (Adapted from Simple Bites)
Serves 4
3½ tablespoon unsalted butter
2 large leeks, white and light green part only, finely chopped
2½ tablespoons flour
4 cloves garlic, minced
⅓ cup water
3 cups chicken or vegetable broth
2 pounds trimmed green asparagus, cut into 1 inch pieces
1 bay leaf
½ teaspoon fresh dill, chopped
½ cup heavy cream
1 teaspoon salt
¼ teaspoon black pepper
Dash of nutmeg
Juice of one lemon
Fresh Parmesan or Grano Padano, for serving (optional, but highly recommended)
In a large pot, melt the butter over medium heat. Add the leeks and cook until the leeks are softened, about 5 minutes.
Add the garlic and sauté for a minute longer.
Whisk in the flour, and sauté for another couple of minutes.
Add the water and whisk to remove any lumps.
Add the chicken broth, asparagus, bay leaf, and dill. Reduce heat to medium and bring the mixture to simmer.
Reduce to medium-low and simmer, covered, for about 10 minutes, until the asparagus is very tender.
Remove the bay leaf.
Using an immersion blender to purée the soup until very smooth. If using a food processor, work in batches to purée the soup.
Add the heavy cream, salt, pepper, nutmeg, and lemon juice. Whisk to combine, and heat over moderately low heat until heated through.
Serve with a sprinkle of cheese.