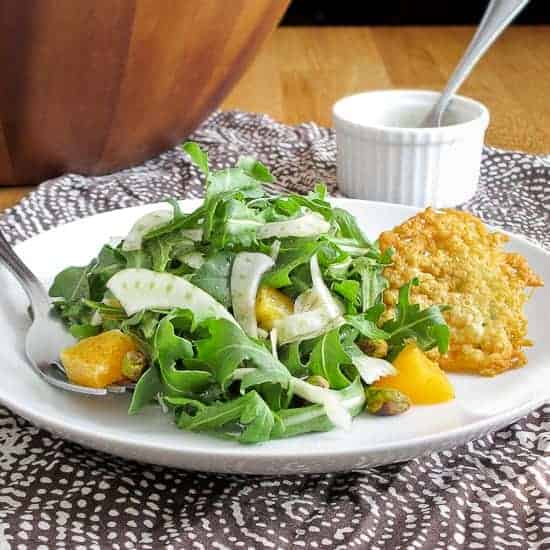 Up until now, I'd only ever eaten raw fennel in salads out at restaurants. I loved it, but I'd just never prepared it myself. I rarely cook fennel either, for that matter. In fact, you might recall the eggplant & fennel gratin I set out to bake a couple of weeks back; I accidentally used a leek instead, and in a true blonde moment, it took me four days after I posted the recipe to notice my blunder. It was fantastic nonetheless, but fennel hasn't actually made an appearance in my kitchen in quite a awhile.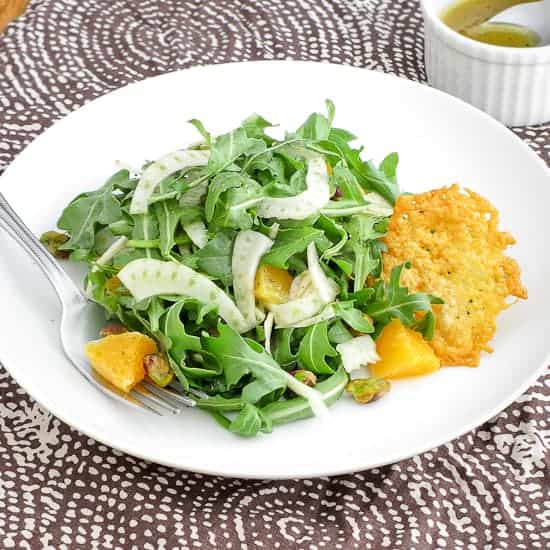 Just a few weeks ago, I shared a large salad with my namesake Sarah while out to lunch at Henry's catching up and celebrating birthdays. We took note of the way fennel and oranges complemented each other in one delicious bite, and I immediately began making plans to prepare my own fennel salad at home. The salad shared here is inspired by one currently on their menu, but is slightly different from the one we split. I'm really not one to eat only a salad as an entire meal and be satisfied--typically I get bored and want more variety--but this salad is something else; I scarfed down the leftovers for lunch the next day and just couldn't get enough. It needed no accompaniment to fill me up or entertain my palate. This salad sure does come a long way from the ranch dressing soaked greens and croutons I craved from the Round Table Pizza salad bar growing up.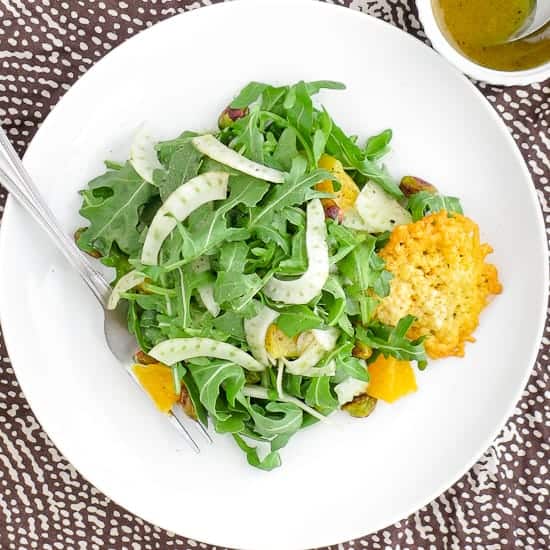 Since I'm talking about salads, I will share a unique fact about my taste-tester boyfriend. When left to his own devices, Lucas leaves dressing off salads altogether. It's not that he eats such fancy salads that might be ruined by drenching them in dressing, he just prefers the taste of lettuce on its own. As part of his lunch this week, I literally gave him a bowl of chopped up romaine and he was happy as a clam. While being the guinea pig for my kitchen experiments, he prefers his greens like the actual animal. A true guinea pig, he is. This arugula and fennel mix is the first time I've been able to relate to his preference. The medley was so flavorful and complex on its own that I only added a few drops of vinaigrette to tie it all together.
Arugula and shaved fennel salad with oranges and honey cider vinaigrette
Makes 4 side salads
1 fennel bulb, shaved with a mandoline or food processor grater
5 - 6 cups baby arugula
3 navel oranges
½ cup pistachios
8 parmesan crisps (recipe below)
Honey cider vinaigrette (recipe below)
Slice off the top and bottom of each orange. Use knife to remove the peel and pith. Separate the segments, and slice each one into thirds.
Toast the pistachios in a cast-iron skilled for a few minutes, until they begin to brown.
Toss together the shaved fennel, arugula, orange pieces, toasted pistachios.
Split the salad among four plates, and drizzle dressing on top, to taste. I used about a teaspoon or two each.
Serve each salad topped with two parmesan crisps.
Parmesan Crisps 
1 cup freshly grated parmesan cheese
Preheat oven to 400ºF.
Pile a small spoonful of cheese onto parchment-lined baking sheet.
Use fingers to lightly press down. Repeat until all cheese is used, spacing about ½ inch apart.
Bake until slightly golden brown, approximately 4-8 minutes (depending on your oven - watch carefully because it will burn quickly).
Remove from heat and let cool on baking sheet. Carefully remove with spatula.
Honey cider vinaigrette 
Makes about ¼ cup
2 tablespoons olive oil
2¼ teaspoons apple cider vinegar
½ teaspoon dijon mustard
½ tablespoon honey
Kosher salt and freshly ground black pepper, to taste
Whisk together all of the ingredients in a small bowl.
Drizzle over salad.