Back in my college days, I cooked all my meat on a tiny George Foreman. Within seconds of being plugged in, it heats up and is ready to go; WAY easier than preheating the oven and pulling out pots and pans. My expectations for flavor and texture clearly weren't super high. Oh and did I mention that all of my meat came from the frozen foods department? The handy personal grill is still tucked away behind more useful gadgets on my kitchen shelf, but nowadays its primary purpose is for pressed grilled cheese sandwiches. For which it does a top-notch job.
We spent last weekend sawing, sanding, staining, and painting in service of making wedding gifts (big reveal next weekend after the bride and groom have seen them). As of late Sunday afternoon, sawdust covered our clothes and we still hadn't gone grocery shopping. While Lucas squeezed in a 10 mile run, I had to put our workshop away, get cleaned up and figure out something speedy for dinner; he'd have about 15 minutes to shower and eat before we needed to rush out the door again. It's times like these when quesadillas and grilled cheese sandwiches come in handy. Throw whatever you've got on hand into your favorite roll or tortilla, press it in the George Forman, and enjoy. Quick to make, easy to eat on the road, and crazy delicious. There are very few pleasures as satisfying as melted cheese on bread.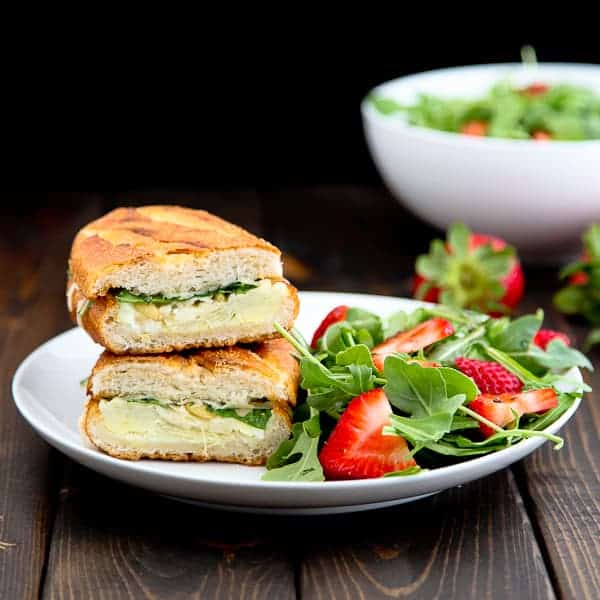 I'd done my part to get us out the door with happy bellies, but our departure time approached with no sign of the marathon trainee. At the end of his 15 minute window, an out-of-breath Lucas called me from a random stranger's phone to report that he'd gotten lost in Tilden park. His 10 mile route turned into a long 16 miles as he exerted all of his energy trying to make his way home from a few towns over. This crispy grilled cheese awaited his arrival as I headed out to catch my appointment. While getting 15 inches chopped off my hair, I got a text that read "Best. Sandwich. Ever." His immense post-run hunger may have skewed his opinion, but I agree that this grilled cheese was pretty fantastic. To put it to the test, I made it again on Friday for lunch with my cousin Sofia, who just so happens to share my love of cheese. This sandwich takes a combination of ingredients typically reserved for a refreshing salad and re-imagines them in a cheese-y roll. The twice-tested result is AH-MAZE-ING.
Artichoke, arugula, and pine nut grilled cheese
Serves 2
2 rolls of your favorite sourdough panini bread, sliced in half lengthwise
4 tablespoons spreadable goat cheese
1½ cup freshly grated parmesan cheese
1 cup quartered artichoke hearts, cut in half
2 tablespoons pine nuts
½ cup baby arugula
If using a thick roll, lightly toast each half.
Spread the goat cheese on the bottom half of each roll. Sprinkle a little bit of parmesan cheese onto of the goat cheese, reserving half.
Layer the artichoke pieces, pine nuts, and arugula on top of the cheese.
Sprinkle the remaining parmesan on top of the arugula and close the sandwich.
Press the sandwich in a George Foreman (or in a hot skillet on the stove) until the cheese begins to melt.
Serve immediately.