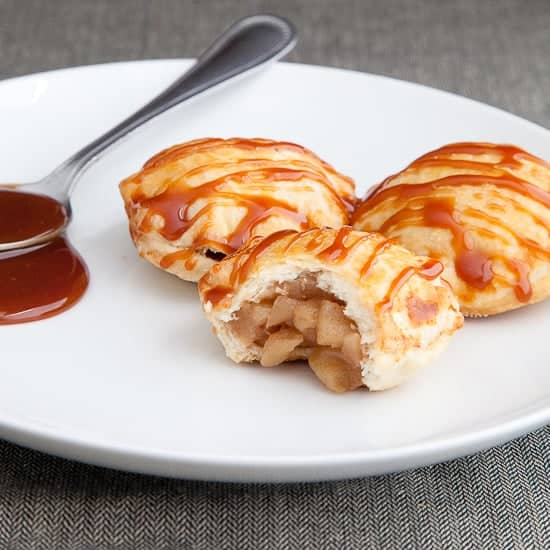 For some reason, packing any dessert into a personal serving size boosts its appeal. Seriously, cupcakes are WAY more fun than cake; it's like 2 dozen parties instead of just one! With that in mind, I set out to make dessert ravioli. I had two ideas brewing, but by a unanimous vote (Lucas only), personal apple pie ravioli with warm caramel sauce won. This concept arose mostly because I was eager for an excuse to use my ravioli maker attachment. Well, as it turns out, flakey, delicious pie crust dough does NOT like the pasta-maker and crumbles at the mere sight. No sweat, though, I just hand pressed the ravioli. After baking these apple pocket treats, we discovered they looked less like ravioli and much more like little personal pie puffs (the best word we could find to describe the creation - notice that Lucas gets an honorary inclusion in the baking process by proximity from the couch to the stove). Let me rephrase: totally delicious personal pie puffs! O man, these baked goods are out of this world. I didn't even need to make the caramel sauce, but the combination was scrumptious. I'll surely be baking these pastries as a finger food dessert for a party in the near future; in fact, maybe I'll throw a party just so I can bake them.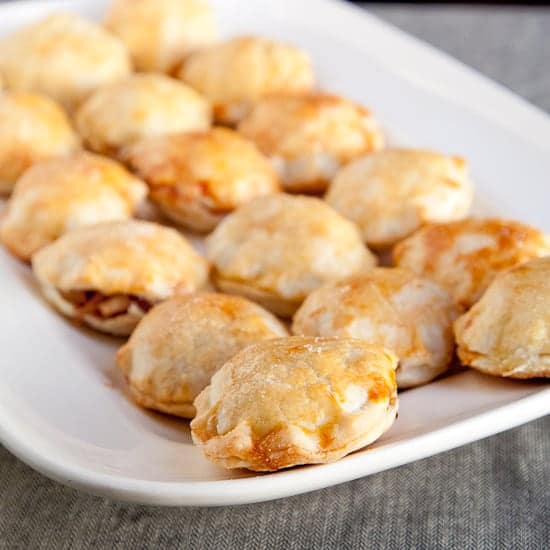 My only homemade apple pie attempt happened earlier this year when I decided to bake Margot's favorite pie as a going away treat. I'd never baked an apple pie before and wasn't in the mood to follow a recipe (I used at least five different types of apples and threw in a couple of pears because that's just want I wanted  to do and Martha couldn't convince me otherwise). The crust puffed up tall, while the filling sunk; when I cut into it, the insides were still a tad runny and the apples slightly crunchy. I still thought it was delicious and ate it without complaint, but it wouldn't have won any awards at the county fair. Margot, if you're reading, these apple pie puffs are in your honor; they could definitely compete with grandma's old-fashioned apple pie. I'll make it up to you one day, I promise.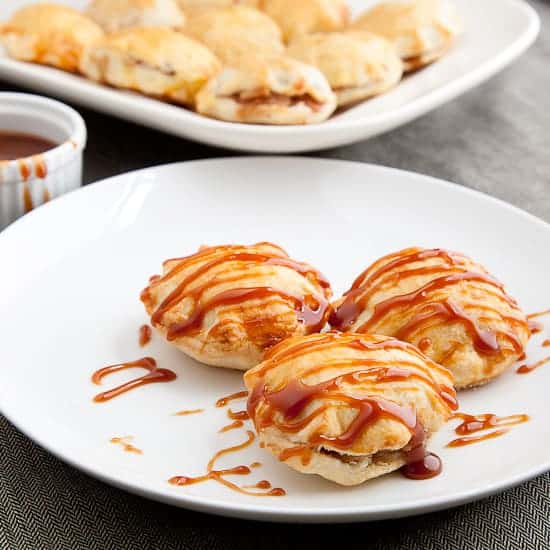 For these bite-sized puffs, I decided not to make my own pie crust (even though they certainly would have been even better with a homemade crust) because we were short on time (we slept in half the day). Instead, I used two Betty Crocker's boxed just-add-water pie crusts; I didn't want to fuss with a handmade crust (nor did I have the patience to refrigerate it for an hour beforehand).
Did I mention that I burned myself? AGAIN! This time it wasn't my fault at all - the hot-off-the-stove caramel sauce dripped off the spoon and landed splat between my index and middle fingers. Listen when I tell you, this stuff is HOT; stir with caution. This incident is a perfect example of the reason why I will never deep fry anything in my kitchen. Ever. Mark my word, and if I ever tell you otherwise, something's gone horribly wrong.
I've raved about the pie puffs, but I should really give the caramel sauce its moment; I never realized just how easy it was to make luscious caramel sauce. Actually, If I'm being candid, I'll admit that I had to make two batches because I let the sugar cook 5 seconds too long and burned my first batch just slightly. For the second try, I watched the color like a hawk and the instant my thermometer even looked like it was going to rise from 310ºF to 320ºF, I removed the pan from the heat. With the blink of an eye, your perfectly sweet and flavorful caramel could turn into bitter burnt sugar. This second attempt was a great success and put Smucker's jarred caramel sauce to shame.
Miniature apple pie puffs
Makes 25-30
2 boxes of Betty Crocker's just-add-water pie crust dough (or four homemade pie crust dough)
2 tablespoons unsalted butter
3-4 large Granny Smith apples, peeled, cored, and chopped into ¼-inch pieces
2 tablespoons granulated sugar, plus extra for sprinkling
3 tablespoons brown sugar
1 ½ teaspoons cinnamon
¼ teaspoon salt
Pinch of ground nutmeg
Smidgen of ground cloves
Juice of one lemon
1 ½ tablespoons flour
1 egg, lightly beaten
Preheat oven to 425ºF.
Melt butter in large pan over medium heat. Add apples, sugar, cinnamon, salt, nutmeg, cloves, and lemon juice. Cook, stirring, until apples are softened to your preference, about 10 minutes.
Remove from heat and stir in flour. Cool.
Roll out pie crust and use cookie cutter or cup to cut 2-inch circles.
Brush egg on inside edge of  ¾ of the circumference of the circle. Lay another circle on top and press the edges together where egg is to seal, leaving an 1-inch opening at the top to fill.
Place a tablespoon (more or less) of apple filling into the pocket, and press pocket closed. Crimp edges with your fingers. Lay on a parchment lined baking sheet.
Brush tops of pie puffs with egg wash and sprinkle with sugar.
Bake for 25-30 minutes until golden brown.
Serve with warm caramel sauce (recipe below).
Caramel sauce
Makes about 2 cups
1 cup sugar
¼ cup water
½ cup heavy cream
1 tablespoon butter
Dash of salt
Measure out cream, butter, and salt and keep them handy.
In a 2-quart saucepan, add water and sugar, making sure that sugar is not stuck to the side. Turn heat to medium high, and insert candy thermometer.
As sugar starts to melt, stir to make sure sugar distributes evenly. Stop stirring and continue cooking.
Watch CAREFULLY. As soon as the mixture begins to turn color, it will change very fast. Just as the candy thermometer reaches about 320ºF and the caramel is an amber color, remove from heat and pour in cream all at once (Stand back as it will react and sizzle quite a bit). This stage is key, if the caramel gets too dark before you remove it from the heat, it'll taste burned and bitter.
Add butter and salt. When the sizzling calms down, return to medium low heat and cook, stirring constantly, for 3 minutes.
Pour into a cup or bowl and let cool a bit before serving.