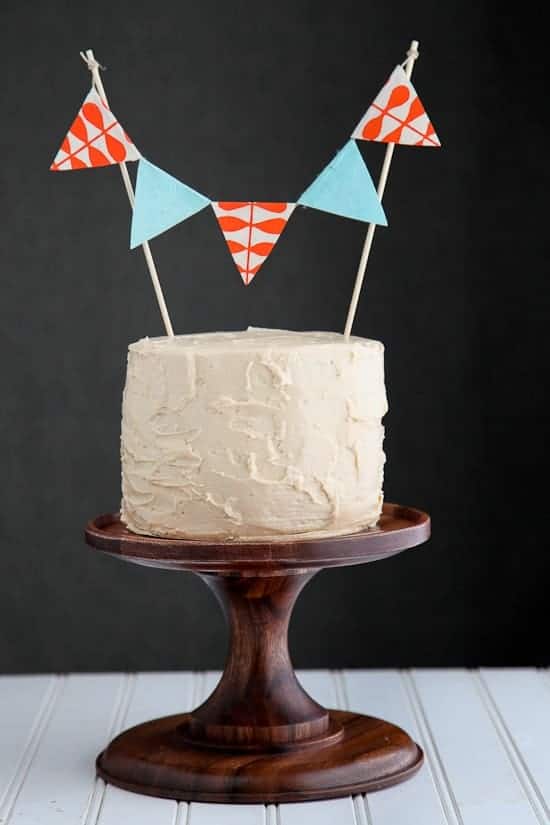 Coinciding with my 100th post, Snixy Kitchen has moved to SnixyKitchen.com! When I first started this blog a few months ago, I fully intended to upgrade to a custom design within a couple of weeks. Who knew it would take time (for Lucas) to learn how to build a website? Well here it is: Snixy Kitchen as a self-hosted dot com with a facelift, courtesy of my hard-working boyfriend. The billion hours he put into this redesign sure do make a girl feel loved. On the new site, you'll find artichokes scattered about - a nod to our everlasting love for the vegetable (you may already know that we heart them so much that we even named our cats Artichoke & Aioli). Between the new domain, redesign, and centennial post, we've got reasons to party here at Snixy Kitchen! To celebrate, I baked this fancy-pants applesauce cake with spiced apple pie filling and caramel buttercream frosting. Oh, and a homemade cake-topper. And, to thank my readers for sticking with me while I figure out the nuts and bolts, I'm doing my very first Snixy Kitchen GIVEAWAY! Details below.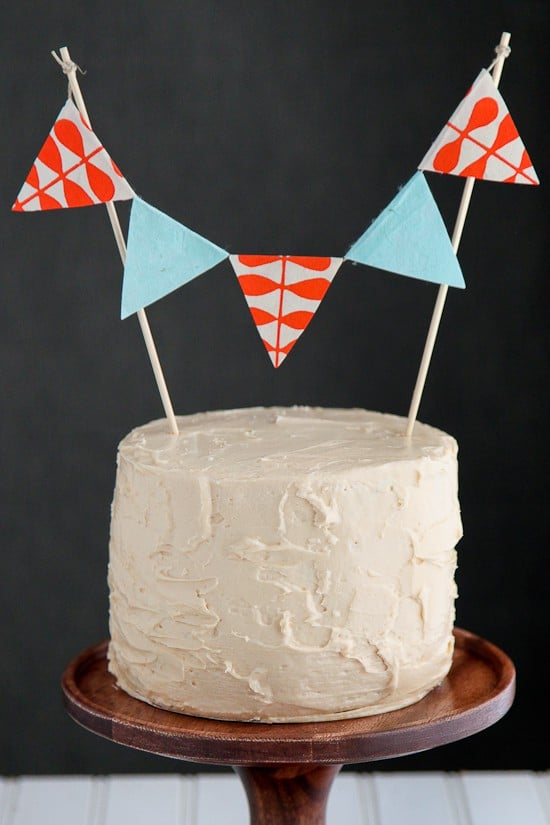 First, some logistical information about the transition. The former WordPress domain will automatically redirect to SnixyKitchen.com, but do let me know if you find any broken links or technical issues. If you were subscribed to the previous site, I think I've moved you over to the new domain, so hang tight while I test it out. You may need to update your RSS feed, though (I'm only a little tech savvy, it seems). Now, what can you do to help? I'm so glad you asked. If you've linked to any of my posts in the past, I'd really appreciate if you could update the link by deleting the ".wordpress" from the URL. Even though the old links will redirect, updating them will help with my page rank. Last but not least, Snixy Kitchen has a brand new Facebook page, so head on over and check it out!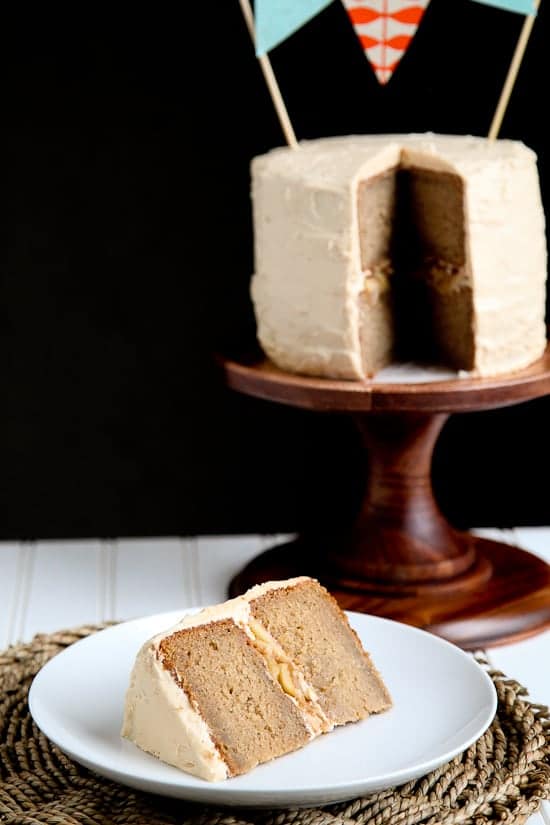 And now for the part you've all been waiting for: this swoon-worthy cake. When I settled on the different components I'd meld together for this cake, my mouth was watering just thinking about it. I have a bit of an obsession with cakes, cupcakes, and ice cream in unique flavors (you know, the kind you can't buy at the supermarket). I'm also crazy for all things caramel apple. This cake satisfies both of these infatuations. Imagine biting down into a dense, moist applesauce cake. You taste a slight crunch from cinnamon and sugar-coated apple slivers, followed by smooth, rich caramel buttercream. Did you hear me? Caramel buttercream. I don't know about you, but I could eat caramel by the spoonful. Now stop drooling and get your butt over here to eat a slice because I've got two tempting cakes on the counter and my hips won't be happy if Lucas and I have to share them between ourselves. Yes, I spent two days baking a cake for this virtual occasion without any plan for who would eat it. I do not regret that decision because this cake is AWESOME (my glutinous stomach and my growing hips are at odds with one another). The applesauce, apple pie, and caramel flavors explode in your mouth. I'm going to go ahead and say it's healthy because it's filled with 4 cups of applesauce and two apples (never mind the butter content). And just look how cute it is! I just had to take a break from telling you about it to devour another slice. Totally worth it. A cake so lip smackin' tasty that you don't need a real-world reason to spend the entire weekend baking.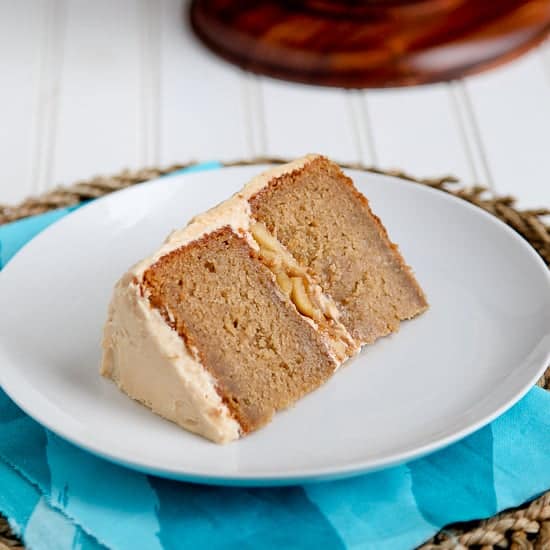 Homemade Customized Bakery Sign Giveaway!
To continue the festivities and thank you for your love and support, I'm excited to introduce my very first giveaway. One lucky Snixy Kitchen reader will win the homemade customized bakery sign pictured below! The sign is hand painted by yours truly on a cabinet door I picked up at a salvage yard, and I'll customized it with up to 16 characters of your choice above the word "BAKERY" See below for customized examples and instructions on how to enter.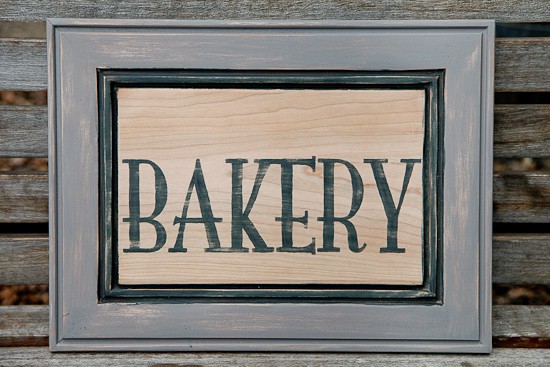 In addition to wooden spoons, I've made different versions of this bakery sign as wedding or bridal shower gifts for my friends over the past year (see snapshots below for sample customization). A similar style now hangs on my kitchen wall, too. At the last bridal shower, two guests tried to commission me to make one for their cousin's wedding. Since I'd have to charge a ton to make it worth the time it takes to create each one, I countered with instructions on how to make it for themselves. Someday I'll share a tutorial for you, but for now, I'm giving away a custom sign because I love you so much!
To Enter this Bakery Sign Giveaway:
Want your very own Bakery sign to hang from your kitchen wall? Just leave a comment below telling me about your favorite thing to bake. You can also gain up to 2 bonus entries for liking Snixy Kitchen on Facebook or subscribing to Snixy Kitchen via E-mail (see right). Just be sure to come back here and leave separate comments to tell me about each bonus you completed! Entries for this giveaway have closed. Congrats to Renee G for being randomly selected to win the Bakery Sign! Check your e-mail for information on next steps.
I'll be doing another giveaway in the coming weeks, so keep your eye out!
Apple pie cake with caramel buttercream
Makes one 3-layer 8-inch round cake OR
Makes one 2-layer 6-inch round cake, one single layer 6-inch round cake, and 6 cupcakes (You make do with what you've got!)
Applesauce cake
4 cups all-purpose flour
2 teaspoons baking soda
1 teaspoons baking powder
1 teaspoon salt
1 teaspoons cinnamon
¼ teaspoon ground allspice
½ teaspoon nutmeg
1½ cups (3 sticks) unsalted butter, room temperature (Hint: you can cut it into tablespoons to help it reach room temperature faster!)
1½ cups sugar
1 cup packed dark brown sugar
2 large eggs
1 teaspoon vanilla
4 cups unsweetened applesauce
Preheat the oven to 325ºF.
Prepare three 6 or 8-inch round cake pans by buttering each and lining the bottoms with parchment paper. Butter the parchment paper then dust each pan with flour. Be sure to knock out as much excess flour as possible to reduce crumbs on the edges of the cake.
In a large bowl, sift together the flour, baking soda, baking powder, salt, cinnamon, allspice, and nutmeg.
In the bowl of an electric mixer with a paddle attachment, cream the butter on medium-high speed for about 4 minutes.
Add the sugars and beat on medium speed until light and fluffy, about 3 minutes.
Add the eggs and vanilla. Beat on medium speed until combined.
In three parts, add the flour mixture, adding half of the applesauce between each part. Beat on medium-low until each part is well-mixed. You may need to scrape the edges of the bowl after the applesauce additions.
Divide the batter between each cake pan, using a knife to smooth the tops. Lightly drop each filled pan on the counter to release any air pockets.
Bake for 45-55 minutes, rotating the three pans every 15-20 minutes, until a toothpick inserted in the center comes out clean and the tops are golden brown.
Let the pans cool on a wire rack for a half hour before turning the cakes onto the rack to cool completely.
Prepare the frosting and the apple pie filling (recipes below).
Trim the cooled cakes to make sure they are flat on all edges and the top.
Layer in order: one cake round, a thin layer of frosting with a lip on the outer edge, a layer of apple pie filling, another thin layer of frosting (applied to the bottom of the next layer of cake), a second cake round, a thin layer of frosting with a lip on the outer edge, a layer of apple pie filling, another thin layer of frosting (applied to the bottom of the next layer of cake), a third layer of cake. Note: if you used 6-inch rounds like I did, you'll probably only want two layers then frost the third as a separate cake.
Use about 1 to 1½ cups of frosting to frost a crumb layer to your stacked cakes. A crumb layer is a very thin layer of frosting meant to hold the crumbs it, so you will have lots of crumbs and the cake peeking through on this layer - it will get covered up!
Refrigerate the cake for 30 minutes to an hour until the crumb layer hardens.
Use the remaining frosting to frost the cold cake. I recommend cutting it while it's still a little chilled to make it easier.
Caramel buttercream
1 batch of caramel sauce (recipe below) *MAKE THIS FIRST
1½ cup (3 sticks) salted butter, room temperature
4 cups powdered sugar
In the bowl of an electric mixer fitted with a paddle attachment, cream the butter on medium-high speed for about 3 minutes.
Add  the powdered sugar, ½ cup at a time, beating on medium speed after each addition. After every other additions, increase speed to high, and beat for 10 seconds.
Add the caramel sauce and beat frosting on low speed to combine. Increase speed to medium-high and beat until fluffy and thoroughly mixed, about 2 minutes.
Caramel sauce
½ cup sugar
¼ cup water
½ cup heavy cream
2 teaspoons vanilla
Add the sugar and water to a medium saucepan and stir until combined.
Heat over medium-high heat. As sugar starts to melt, stir to make sure sugar distributes evenly. Stop stirring and continue cooking.
Watch CAREFULLY. As soon as the mixture begins to turn color, it will change very quickly. Just as the caramel reaches a dark amber color, remove from heat and pour in cream and vanilla all at once, stirring with a wooden spoon to combine (Stand back as it will react and sizzle quite a bit). This stage is key, if the caramel gets too dark before you remove it from the heat, it'll taste burned and bitter.
When the sizzling calms down, return to medium low heat and cook, stirring constantly, for 3 minutes.
Pour into a bowl and let rest until completely cooled, about 30 minutes.
Apple pie filling
2 large Granny Smith apples, peeled, cored, and sliced into thin slivers
1 tablespoon unsalted butter
1 tablespoon granulated sugar
2 tablespoons brown sugar
1 teaspoons cinnamon
Pinch teaspoon salt
Smidgen of ground nutmeg
Smidgen of ground cloves
Juice of one lemon
1 tablespoon flour
Melt butter in large pan over medium heat. Add apples, sugar, cinnamon, salt, nutmeg, cloves, and lemon juice.
Cook, stirring, until apples are softened to your preference, about 10 minutes.
Remove from heat and stir in flour. Cool.