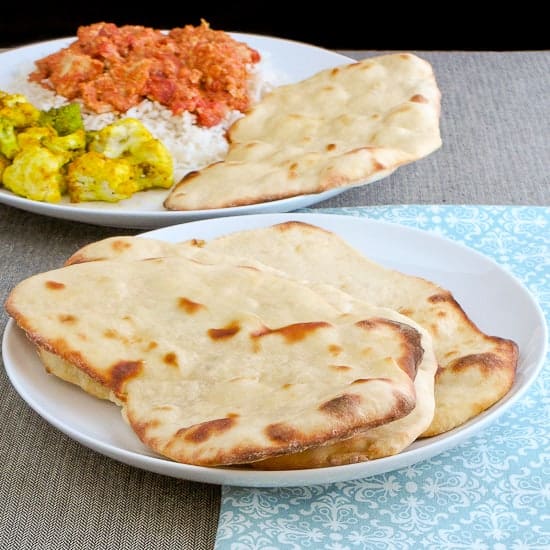 Making homemade bread is on my bucket list. I'm not there yet, but I've been making fresh pasta and pizza crust for a while, and now I can add naan to bread-like things I've made on my own. By using a (simple) sourdough starter, this naan recipe brings me so much closer to my eventual goal of baking a crispy on the outside, fluffy on the inside, loaf of delicious bread in my dutch oven. I think the major thing holding me back is that I'm afraid I'll love it too much, and then I'll eat the entire loaf all by myself. Bread and cheese will be the death of me. That fear is coupled with the fact that we always have way more freshly baked bread than two people can possible eat in a lifetime, graciously given to us by the father of one of the students I tutor. Naan bread, however, is not part of this collection of loaves. And, what's more, even if I do find it irresistible, it's not quite dangerous as risking consuming an entire sour batard in one sitting.
This naan recipe, while requiring advanced planning, involves very little prep. I love that it only takes a couple of minutes to turn each piece of dough into a crispy and chewy piping hot slice of bread. Lucas even said he thought it was better than any naan he's eaten at a restaurant, which is a huge compliment because he's usually my second biggest critic (next to me, of course). Trader Joe's has a pretty delicious frozen naan if you're in a pinch, but I'm now partial to this homemade recipe. The downside: you should have SEEN the disaster zone in my kitchen after cooking chicken tikka masala, basmati rice, curry spiced cauliflower, naan bread, and blood orange curd shortbread bars all in one evening. Every inch of counter surface was occupied by a cooling platter, all four burners carried an in-use pot, the dish drainer was stacked high in a wobbly pile from my (failed) attempt to wash the plates as quickly as I dirtied them, and the sink was still filled to the brim as if I'd used every bowl and plate I owned.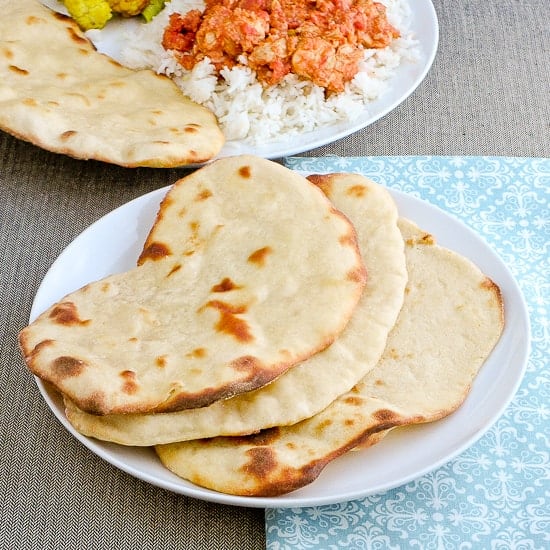 As an aside: I'm incredibly pumped about the fact that this recipe allowed me to use the very last bit of a large container of plain yogurt for the first time in history. I know this complaint sounds silly, but I seriously don't understand why you can buy every flavor of yogurt under the moon from key lime pie to gingerbread in individual servings, but plain yogurt is only sold in a gigantic jug. I usually only need a few tablespoons as a substitute for sour cream, and the remainder rots faster than I can consume it. And I hate wasting food; sometimes I let the soured yogurt stay in my fridge an extra week because I just feel too bad throwing it out. I'm sure there are people shaking their head at me thinking, "why don't you just eat it for breakfast?" To that, I have no good response except to say that I am particular about my yogurt (go figure).
Homemade naan bread (Adapted from Ambika's Kitchen)
Makes 8
2½ cups flour
¾ cup plain yogurt
1 teaspoon sugar
1 teaspoon salt
1 teaspoon baking powder
2 tablespoons unsalted butter, melted (Optional: extra for serving)
1 egg, lightly beaten
A day in advance, mix ½ cup flour, ½ cup yogurt, ½ teaspoon salt, and 1 teaspoon sugar in a small bowl. Cover with a light kitchen towel and let rest in warm place for 18-24 hours, until there are a few small bubbles at the surface.
After the starter has fermented, combine remaining 2 cups of flour and ½ teaspoon salt with the baking powder and butter in a stand mixer and mix until crumbly.
Add the sourdough starter, the remaining ¼ cup of yogurt, and the egg to the flour mixture above and mix until it forms a ball. You can add more yogurt if necessary to make the dough moist, but not sticky. Using a dough hook, or by hand, knead the dough until it is smooth and elastic.
Form the dough into a ball and coat it with oil. Place the oiled dough in a medium bowl. Cover the bowl with a kitchen towel, and let the dough rest for another 3 hours. The original recipe tells me that you can store the dough for up to 3 days in the refrigerator, and then bring it to room temperature when you're ready to use it.
After the dough has rested (it may or may not get a little bit bigger), cut the dough into 8 equal-sized pieces (I cut mine across like a pizza/pie).
Turn the broiler on so it has time to heat up, and place the rack as close to the broiler as it goes.
On a floured cutting board, roll out each piece into a flat oval, one at a time. Place as many pieces as possible on a cookie sheet (my oven is small, so I baked them in batches of two), and brush the top side with water.
Broil the naan for about 2 minutes on each side (mine took a little longer because my oven is wonky), until you start to see some light brown spots. Keep an eye on them because they'll burn really quickly.
Cover them with a kitchen towel while you cook the other pieces to keep them warm and soft.
Optional: spread butter on the naan while warm and serve with chicken tikka masala (or another Indian dish!).
More from Snixy Kitchen