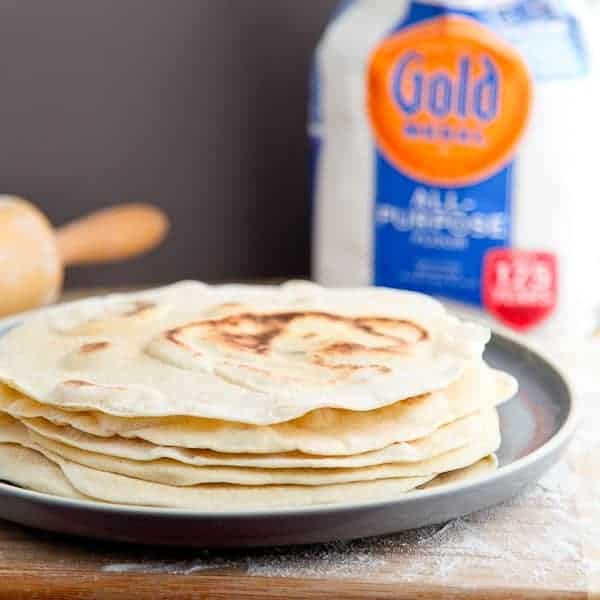 Where has 2012 gone? While teaching 9th grade in 93 degree Philadelphia humidity back in 2009, the end of the school year couldn't get here fast enough. (It didn't help that the February snow days tacked on an extra week in June.) NOW, time can't go slow enough. And I'm not just saying that because I have a million things to do, which I do. Back in January, Lucas and I made a plan to cook one dish a week from our ever-growing cookbook collection. High up on that list was The Homesick Texan's tortillas. It's almost June and not only had we not made tortillas, I can't remember the last time I cracked open a physical cookbook.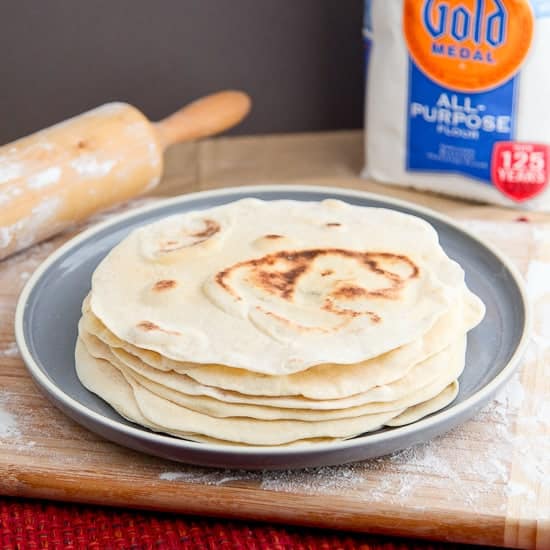 One of the first things Lucas told me about his grandma is that she loves to make her own tortillas. If I ever wanted to get on her good side, I better learn the trade. I'm not a true cook until I can mimic grandma's time-tested Mexican dishes. I know it's not very Mexican to make flour tortillas, but I much prefer them over corn. So that's where I started. Plus, it's just flour, oil, baking soda, and salt – how different could it really be from making pizza dough or pasta? Last weekend, we made three batches of tortillas, not realizing just how much rolling it'd require. Or how much flour. Twenty-four tortillas later, a light film of white dust-covered every inch of the kitchen. As clean as I try to be, sometimes I accidentally turn the KitchenAid to high instead of off when I've  only got two cups of dry ingredients in the bowl. Oops. We had friends coming for dinner, and I planned for about an hour to make the whole lot. For someone getting a PhD in Math Education, I could really brush up on calculation skills; I didn't account for the time it'd take to roll out each disc and then to flip them one by one in the skillet. Luckily I planned for an early dinner, so no one was starving when the table finally got set at 8pm.
I have a love/hate relationship with these fresh tortillas. While we didn't particularly like them straight out of the pan, they were phenomenal rolled up as taquitos. Fortunately taquitos were the tortillas' sole fate, so the blah-ness didn't end up mattering for us. If you're looking for a delicious taco tortilla or one to heat up and eat plain, this might not be the one for you. Even though I followed a recipe, I take full blame for the less than ideal outcome. When planning this culinary first, I passed up the Homesick Texan's amended recipe from the printed cookbook in favor of her online recipe that required no butter and way less time. I should have known: 1) you can't rush mouth-watering results and 2) when in doubt, always use butter. Ignoring her recipe revisions was my first mistake, but then I also went a bit overboard on the flour. When the dough would stick to the cutting board or the rolling pin, I'd just throw flour at the problem, generously sprinkling it as if flour were free. The result, although smooth, was a little tough and not super flavorful. Clearly I needed less flour and more butter. If you're gonna fill them with creamy spiced chicken though, then they're perfectly tasty. Stay tuned for that follow-up recipe!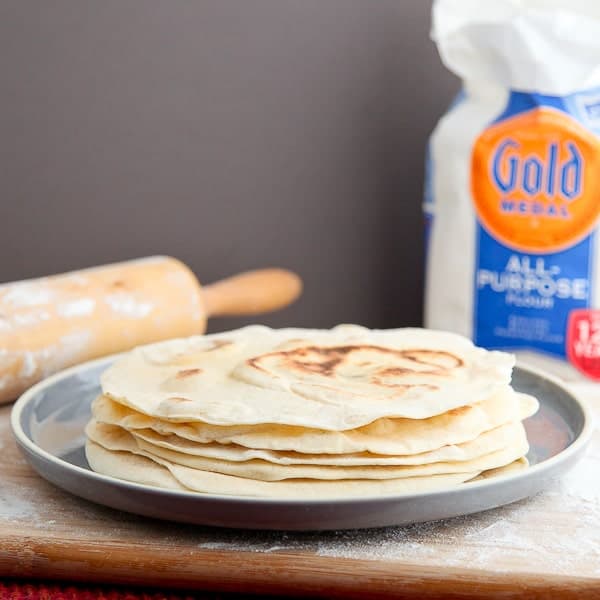 Flour Tortillas (Recipe from Homesick Texan)
Makes 8 medium tortillas
2 cups of flour plus more for rolling
1½ teaspoons baking powder
1 teaspoon salt
2 teaspoons vegetable oil
¾ cups warm milk
In the bowl of an electric mixer, whisk together the flour, baking powder, and salt.
Add the vegetable oil and combine.
With the electric mixer on low, slowly add the warm milk and mix until combined.
Transfer the dough to a lightly floured cutting board and knead for a couple of minutes, until the dough is soft.
Roll the dough into a ball and put it in a medium bowl. Rest, covered with plastic wrap, for 20 minutes.
Split the dough into eight pieces and roll each into a ball. Lay the pieces so they aren't touch on a plate and rest, covered with plastic wrap, for 10 minutes.
Using a rolling pin, roll a ball into an 8-inch circle on a lightly floured cutting board. Transfer to a plate and keep covered while your roll out the rest. Repeat until you've rolled out all eight tortillas.
Heat a cast iron skillet on high.
Cook each tortilla for about 35 seconds, then flip. Heat for an additional 20 seconds on the second side, until it puffs up.
Transfer to a plate and keep covered while you cook the rest.
Eat warm or roll them into taquitos!
More from Snixy Kitchen:
Tags: